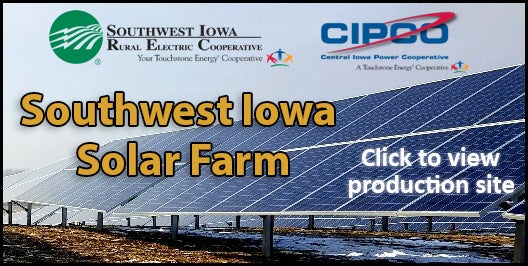 The image above is a link to Southwest Solar MiniSite. To view the Power Display Kiosk monitoring site click here. This site is best viewed in Firefox or Internet Explorer browsers.  
Southwest Iowa Solar Farm is located outside of Corning, Iowa along Highway 34.
Utility-scale solar provides reliable, clean electricity generation and compliments CIPCO's existing renewable energy generation portfolio.  At a generation cost significantly below that of residential-scale solar, the new facility will provide CIPCO with additional resources for distributing electricity to our members throughout the state.
CIPCO maintains a balanced energy portfolio and ownership of electric generation assets.   Up to 95 percent of CIPCO's energy needs are generated in Iowa with 60 percent of the energy from carbon-free resources including wind, nuclear, hydroelectric and soon to be solar.  CIPCO supplies all power requirements for its member cooperatives, and as their power provider, CIPCO is dedicated to delivering quality, safe and reliable service at the lowest possible cost.
CIPCO is Iowa's largest cooperative energy provider serving 12 rural electric cooperatives and a municipal electric association spanning 58 of Iowa's 99 counties. CIPCO is a generation and transmission cooperative supplying power to its member distribution cooperatives covering a territory which stretches 300 miles diagonally across the state from the Mississippi River on the east to Shenandoah in the southwest.
View the timelapse video of Southwest Iowa Solar Farm:  https://youtu.be/AnaJvPRkMTc