High gas prices got you down? Let us show you how you can save 50% or more on your heating and cooling bill with a new heat pump!!
Southwest Iowa REC can do an energy audit on your home to show you what it will cost to heat and cool it with either an air-to-air heat pump or earth-coupled heat pump. Let one of our certified local contractors show you what it would cost to install a reliable, energy efficient system in your home.
Visit TogetherWeSave.com for resources and helpful information on how to save energy and money at home. 
Electric Motor Kilowatt Usage
Take the voltage the motor is wired - 115 or 230 volts, times the amperage (FLA on the nameplate), and divide the result by 1,000. This will give you the kilowatt usage per hour of any electric motor or other electric device. For example, a 10 horsepower motor should pull approximately 50 amps at 230 volts = 11,5000 watts divided by 1,000 = 11.5 kilowatt hours of usage. 11.5 x 24 hours = 275 kilowatt hours per day, etc.
Your electrical consumption may be higher or lower, depending on how you and other people in your home and on your farm use the various appliances and equipment.
Want to calculate your energy usage? Print our energy guides to track your usage offline. They will help verify that your energy bill is correct and allow you to see what items are using the most energy, which will help you find ways to conserve.
Following are some selected appliances and equipment to help you estimate your monthly kilowatt-hour consumption. A more detailed guide is available at the cooperative office.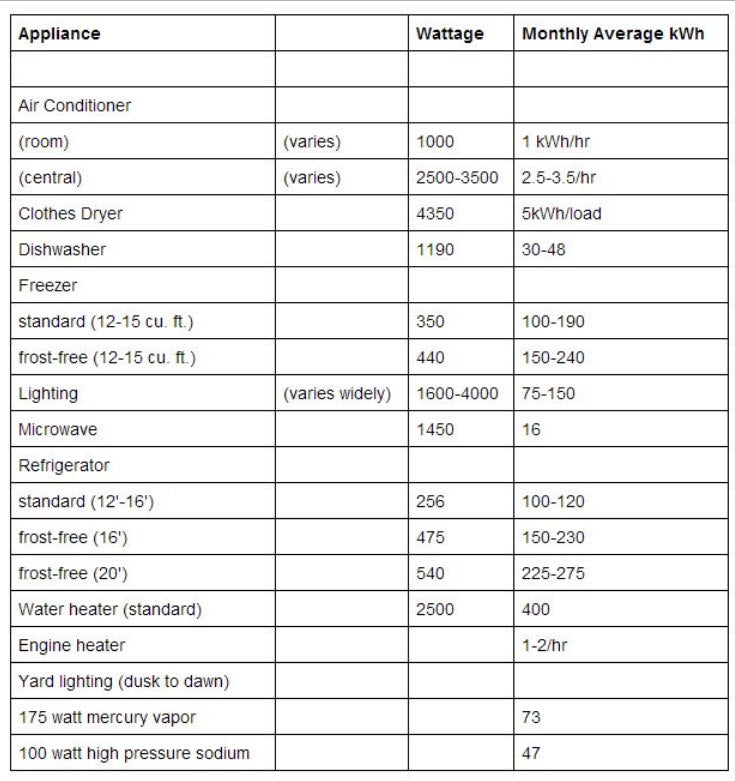 If you still have questions about electrical use and cost, contact Southwest Iowa REC.  
Toll FREE:  (888) 220-4869
Office Locations:
| | | |
| --- | --- | --- |
| Corning | Mt. Ayr | Stanton |
| 1801 Grove Avenue | 1502 W. South Street | 415 Broad Avenue |
| Corning, IA 50841 | Mt. Ayr, IA 50854 | Stanton, IA 51573 |
| Fax: (641) 322-5274 | Fax: (641) 464-2369 | Fax: (712) 829-2775 |
E-mail: For all locations at postmaster@swiarec.coop